What is the difference between camping and glamping?
Across America, the warm sunny days of summer are beginning to spread across the land, and the desire of outdoor lovers to get out into the outstanding natural spaces of this country is rising along with it. For generations, most of these folks would gather together groundsheets, sleeping bags, a camp stove, a cooler, and a tent, and head for the mountains, the forests, and the coastlines around the USA to take in the outdoors, rain or shine.
In more recent years though, outdoor recreation providers, in an attempt to draw a crowd that is less willing to give up the comforts of civilization, but still want to experience the wonders of nature, have come up with a sub niche called glamping. From reinforced canvas tents with a comfortable mattress to full-blown cabins, the options are many.
So which option should you choose this summer? This depends on what you seek from your outdoors experience, the aspects of which we will detail below…
Camping: Become one with the outdoors in the most intimately possible way
Does waking up by the shore of a lake, with the sound of a loon calling in the background appeal greatly to you?  What about if that place was deep in the wilderness, tens of miles away from the nearest road, with only you, your partner or your buddies, and the pure outdoors? If this describes you perfectly, then camping is best for you.  If you are on a budget, camping is also the better option, as campsites often cost dramatically less than a motel room, with an atmosphere that is far superior.
Of course, this choice is not without its drawbacks, as even with a pad cushioning you underneath your sleeping bag, the sensation of sleeping on the ground can be an uncomfortable experience for many.  One also needs to choose their tenting site with care, lest a heavy rainstorm cause the interior of your tent to turn into a lake in a matter of hours.
Glamping: All the jaw-dropping natural scenery associated with camping, without the discomfort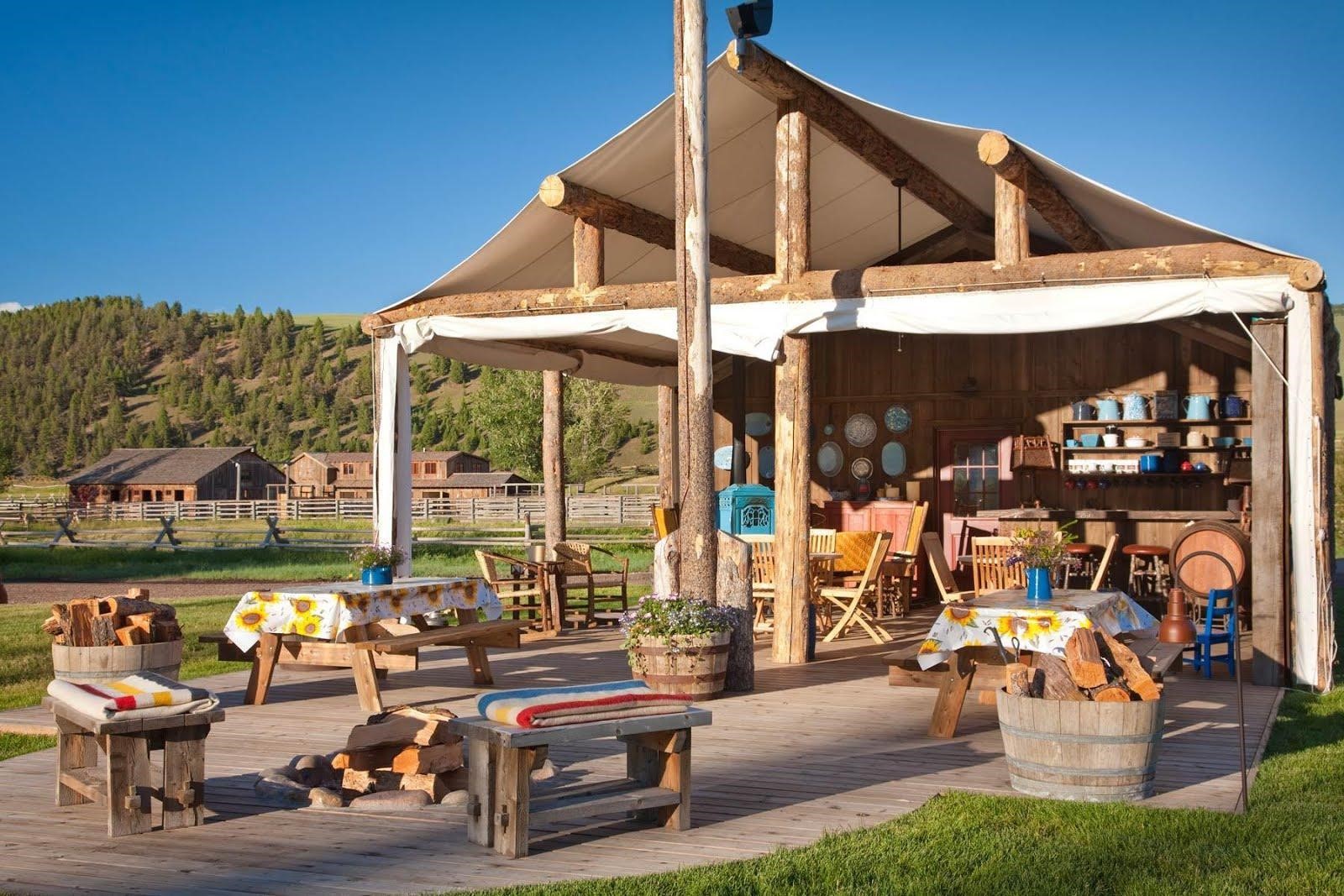 The drawbacks of camping have long been a dealbreaker for many people when it came to those that have avoided this experience in the past.  These people require comfort, and at long last, the invention of glamping has merged this need with the positive aspects of camping.  At places like The Ranch at Rock Creek, one can go for a hike, ride bikes, cast a line on pristine rivers, and end their action packed day in front of a roaring campfire.
When it comes time to retire to their sleeping quarters though, glampers don't fear the chill of midnight air, the hard ground, or a sudden downpour drenching them.  Their reinforced canvas tents, yurts, or cabins provide total protection from the elements, a comfortable bed to sleep in with fans to cool the air should it be humid, and even proper bathrooms and living spaces with sparse but stylish décor items that lend a touch of class to their surroundings.
The vaunted Forbes 5-Star Travel Guide Award has lauded The Ranch at Rock Creek specifically for its amenities, but in general, glamping sites will keep you warm, dry, and have you feeling well-rested in the morning. A drawback to glamping can be its cost relative to camping, but the basic options offer the atmosphere of a wilderness outing at a reasonable price, with amenities that deliver a much cushier experience than sleeping in a standard tent.
This post was sponsored by Rock Creek Ranch