Tag Archives:
Snorkeling
Famed for its stunning beaches, Australia boasts over 4,000km of white sand and crystalline waters. Attracting over 580 million tourists in 2010 alone, Australia's beaches rival those of Hawaii and the Seychelles. 90% of Australians live on the coast and consider their national pastime to be surfing, however, the thrilling sport isn't the only activity popular along Australia's coastline. Fishing, snorkeling rock pooling and even whale and dolphin spotting are all possible by simply going for a paddle.
Whilst, it's not easy to choose the 3 best beaches in Australia with so many fantastic options, the following three have qualities that are perfect for families, those looking to top up their tan or enjoy exciting water activities such as surfing or snorkeling. If you are planning to visit Australia, you can check for Australia visa requirements online before hand to save you some time and headache.
Hayman Island, Great Barrier Reef, Queensland
For those looking to discover true idyllic, quiet, peaceful bliss need to look no further than the Hayman Island. Offering unsurpassed luxury and a multitude of activities including kayaking, water skiing, wakeboarding and even helicopter tours of the Great Barrier Reef. Dripping with astonishing natural beauty, the reef can be enjoyed either by sea or air and guests can also snorkel or dive at the reef with the Hayman Diving and Snorkeling Center which will provide guidance and expertise to those who need it. A trip to the Hayman Island in the Great Barrier Reef is an unforgettable experience.
Horrocks Beach, Western Australia
The picturesque seaside town of Horrocks has much to offer the humble traveler looking to enjoy hot weather, white sandy beaches and warm waters. Surrounded by a coral reef, the bay is perfect for snorkeling and bathers can splash around to their hearts content. During late spring (around October) bathers may even be able to spot humpback whales on their migration south. When the tide is out, bathers can go rock pooling and investigate the diverse marine wildlife that calls the reef it's home. A great family beach, Horrocks also features a nearby adventure playground for when adults want some peace and quiet.
Mandalay Beach, Western Australia
Perfect for sun, sand and surf, Mandalay beach was given its name from a Norwegian ship wrecked there in 1911. Offering spectacular views of Chatham Island, the incredible coastline of Mandalay is perfect for a family day out or a great stop off point for hikers traveling the Bibbulmun track that spans from Kalamunda in the Perth hills to Albany along the south coast. Mandalay beach is popular with both anglers and surfers. It's also part of the D'Entrecasteaux National Park.
For many, snorkeling in the Caribbean's crystalline turquoise waters and swimming with some of the world's most fascinating underwater wildlife encompasses the perfect getaway. However, as there are so many incredible snorkeling spots offering a myriad of marine wildlife, choosing where to go can often cause more stress than bliss.
Contrary to popular opinion that snorkeling in the Caribbean can equate to a small fortune, the opportunities are varied and feasible for everyone regardless of budget. Simply by ducking your head under a breaking wave along a sandy beach in Antigua will immerse swimmers an exciting underwater world predominantly occupied by dozens of rainbow fish, turtles and other sea life. Depending on budget, the opportunities are endless and the Caribbean has so much to offer. To find out more click here.
As the majority of the best, unmissable spots in the Caribbean are only accessible by boat, there are numerous snorkeling boat trips across the Caribbean. Regularly taking small groups on a day's extravagant underwater adventure, tourists are able to explore tropical reefs and inlets. This is particularly popular around the inlets of Tobago Cays or the US Virgin Islands due to the idyllic waters, stunning scenery and exotic wildlife. Here are 5 of the best places for snorkeling in the Caribbean.
St. John, US Virgin Islands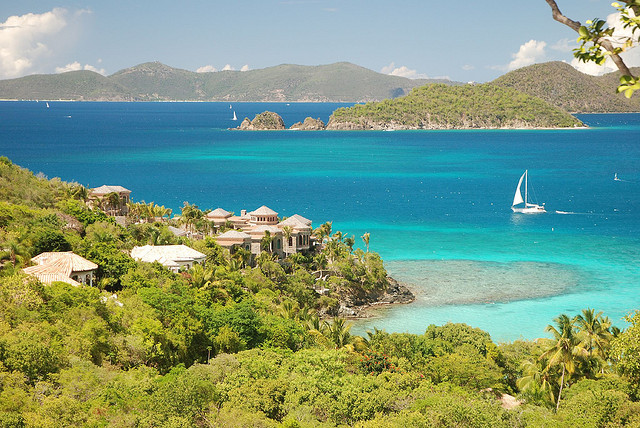 There are many aspects of the Virgin Islands that allure the many thousands of keen swimmers to snorkel along its shores. As the temperature averages around 80 degrees all year round, visitors can take pleasure in St. John's coral reefs, surrounding themselves with sea urchins, sea turtles and even sharks whilst happily splashing around in the immaculate and clear waters. Throughout St. John, there are numerous spots to snorkel and enjoy an incredible underwater environment. Swimmers can snorkel among the three species of sea turtles or the beautiful parrotfish at Cinnamon Bay.
Bimini, Bahamas

Known as 'an island in the stream' the black coral gardens of Bimini are accessible from the beach and attract multitudes of marine wildlife. Only 50 miles from the Florida coast, the coral reef thrives thanks to the Gulf Stream moving northwards bringing with it pods of dolphins, Manta Rays and countless numbers of sea turtles. Consisting of two islands, Bimini boasts some of the most pristine beaches in the world and is also home to the S.S Sapona, a concrete ship that ran aground during a hurricane in 1926.  Said to be one of the best wrecks in the Caribbean, the Sapona has become a habitat of its own and is home to many species of marine wildlife.
Champagne, Dominica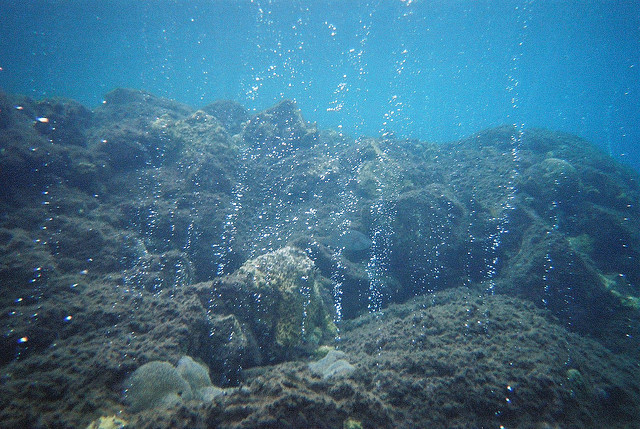 Aptly named due to the bubbles of air that effervesce from the seafloor, Champagne is extremely popular. Well known for its seahorses and frogfish, Champagne is a snorkeling paradise and is guaranteed to be a highlight of any trip spent snorkeling in the Caribbean. Other wildlife often includes lobsters and even squid attracted by Champagne's colorful coral and the bubbles of warm air. Day trips are regularly organized to Champagne's reefs and are highly recommended as the guide's are extremely knowledgeable about the area.
Underwater Sculpture Gardens, Mexico; Grenada
A truly unique spectacle, the sculpture gardens of Grenada are a wonderful sight and can be seen by divers, those in glass bottom boats and those snorkeling. Underwater sculptures by the artist include a circle of children holding hands, a person sitting at a desk using a typewriter and a table with a bowl of fruit and vase. Designed by British artist Jason De Caires Taylor, there are a total of 65 sculptures anchored to the seafloor creating a strange underwater gallery. It is fascinating to see the coral growth around the sculptures and how the marine wildlife has incorporated it into their habitat.
Tobago Cays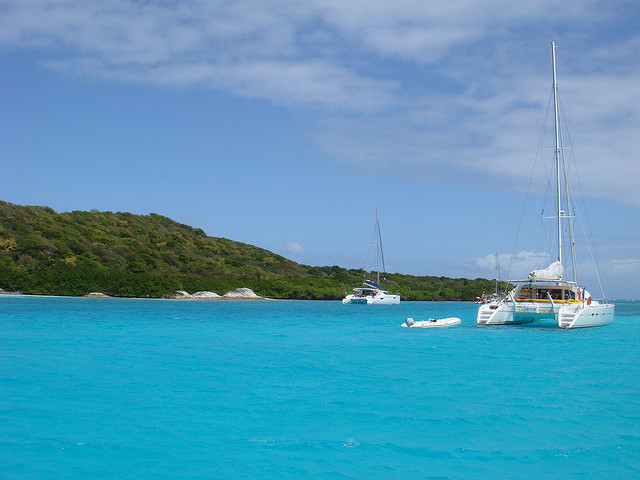 Accessible only by boat, the Cays are entirely uninhabited by people to the extent that it is forbidden by law to build structures there in an attempt to preserve the wildlife. Since the introduction of the marine park an abundance of marine creatures have made it their home. Allowing visitors to snorkel with turtles, eagle rays and a multitude of reef fish, Taboo Cays is renowned for being one of the best places for snorkeling in the Caribbean.