Tag Archives:
scenery
Any unexperienced traveller might think that Iceland is a frigid wasteland. However, there's more to it than a cold name. Its glaciers are contradicted by gorgeous volcanoes and thermal spots ideal for sightseeing and recreational activities. They are some of the country's hottest attractions, literally. Iceland actually makes for a great active, romantic trip and it even made Expedia.co.uk's list of great places to spend Valentine's Day, http://expediablog.co.uk/valentinesdayhotels/valentinesdestinations.html trip to Iceland will never be complete unless you see all the natural sights it has to offer, whether they are hot or cold.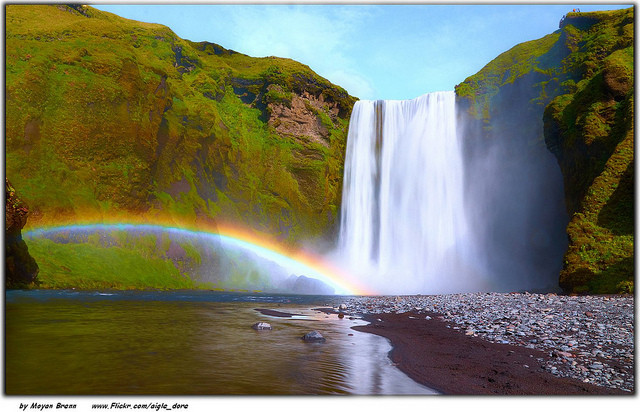 Gullfoss
Gullfoss or "The Golden Falls" is one of the top reasons to visit Iceland. It's about 60 miles from Reykjavik. Gullfoss originates from Hvitá River which plunges down to create this double-cascading falls. A lot of people say it is the country's most beautiful and romantic destinations.
Landmannalaugar
Also outside of Reykjavik is Landmannalaugar. To get to this region, you would have to take a bus or a 4×4. Landmannalaugar is an isolated highland with plenty of sightseeing opportunities, and some of the best in all of Europe.
Jökulsárlón Lagoon
The Jökulsárlón Lagoon is a glacial body of water on the southeast portion of Iceland. It is the remnant of Breiôamerkurjökull glacier which retreated from 1920 to 1965. Jökulsárlón is 190 meters deep and has icebergs all year round thanks to the ice falling off from the glacier.
Geysir
Geysir, derived from the English term "geyser", is a geothermal hotspot 10 kilometers west of Gullfoss. While it is no longer active, it remains to be one of the most visited tourist spots throughout Iceland. Besides, Strokkur sits right next to it and releases steam every 5 to 10 minutes.
Mývatn
Mývatn located in northern Iceland is another must-see attraction in the country. It is a lake region whose shape it owes to volcanic craters in and around the lake. Two spectacular sights within Mývatn include Dimmuborgir, The Black City, and Smajfall, a desert which releases sulphuric steam off the ground.
Blue Lagoon
Probably one of the most popular tourist attractions in Iceland, the Blue Lagoon, is a spa located in Grindavík, southwest of the country. It is a short 13 kilometer drive from the Keflavík International Airport and 39 kilometers from Reykjavík. Blue Lagoon has an outdoor pool as well as a health center. It is set in the center of a lava field with surreal, milky blue waters.
Sometimes, the act of driving itself beats the anticipation of arriving at a final destination. There's nothing better than those magical stretches of road, which seem to have been designed for fantastic driving. That's why we've done our research, pooled our thoughts and created this guide to our favourite driving locations in Europe.
So what are you waiting for? Grab your keys and head off in pursuit of some of the best driving routes the continent has to offer.
S26, Italian Alps
The name may not be very familiar, but we're sure that you'd instantly recognise this particular road in the Italian Alps if you saw it. Still not sure what we're talking about? Imagine listening to Matt Monro's 'On Days Like This' as you drive this winding route through the mountains with your shades on…
Of course, this was the road used in the opening scenes of the classic 1969 film The Italian Job. It's famous twists and turns have made it something of a bucket list item when it comes to European driving and it attracts travellers from all over the world. Take a look at this article from USA Today, for some great ideas about touring the Italian Alps using this majestic route, including things to see along the way.
Adalucia, Spain
Spain is a country that just begs for a road trip. And with so many fantastic routes to choose from, you're more than spoilt for choice.
If you have two weeks to spare, nothing beats a comprehensive tour of Southern Spain and Andalucía. A great place to begin is Malaga, where you can pick up a rental car from the airport. Arrange this in advance to secure the best deal, using a company such as Economy Car Hire, which offers affordable car hire in Spain.
Collecting a rental car is a much better option than driving your own car to the southern tip of Spain. By the time you get there, the novelty of driving may well have worn off and you'll resent the amount of time you've already spent behind the wheel. Take a short flight and collect a car feeling happy and relaxed. This will make embarking on a trip to discover Spanish delights such as Nerja – heralded as the scuba diving capital of Spain – and the gorgeous beaches of Cabo de Gata, all the more enjoyable.
Germany's Black Forest
It has to be one of the most popular routes in Germany, if not Europe: yet the iconic Route 500 through the Black Forest can often be deserted for enormous stretches, leaving just you and the road.
Ultimate Driving has some great tips for driving on Route 500, including which parts of the route can get busy at different times of the day.
A highlight along this route is the abundance of hot natural springs, which has resulted in a wealth of spas and health resorts springing up along the way. After clocking up some serious miles driving through Germany's biggest nature reserve, we can't think of a better way to relax than sitting in the bubbling waters of a natural thermal bath with a few German beers. Take in the gloriously clean air and indulge in some traditional German fare – as much as you love the driving experience, we're sure you'll find it difficult to drag yourself away from so much pampering!
There you have it! some of the best driving locations in Europe to enjoy your next road trip.