Tag Archives:
budget
Rome may be the seat of the Catholic faith but this city has so much to offer than just its churches. Compared to other European countries, staying here becomes really affordable once you have set yourself up in one of the nice places to stay in the area. Even if you have to enjoy Rome on a budget, you can still get to see much of the city without missing the most important stops by getting attuned to how the locals live.
Eat a full meal at lunch rather than dinner. Weight conscious individuals will love this because dinner is deemed to be that meal when you should eat like a slave. The same idea goes for people on a tour to Rome because most restaurants offer all inclusive lunch at competitive prices but during dinner, you could be charged double the price. Hence, it would be better to eat snacks or go on a picnic at dinnertime.

Don't tip more than 5% unless you are really impressed by the service. Contrary to the practice in the US, the waiters in Rome do not expect a 12% tip and Romans do not leave tips which are greater than 5%. So, do not feel obliged to leave more money on the table when you are in Rome.

Stay on your feet while grabbing your meal. A sweet croissant or cornetto and a cup of cappuccino is the perfect combination but when you are in a café or a bar, do what the locals do, stand up and move on. Since the prices for table services can double, standing at the bar to save is definitely an option.

Taste the Gelato. Ice cream happens to be one of the best things about Rome. To those who have a sweet tooth, Rome is just the place to get a lot of it. One good place to eat ice cream is the Piazza delle Province. Ice cream comes in a lot of flavors such as yogurt with strawberries, smarties and anything you want. Just follow the crowd and you'll know the best place to get ice cream.

See Vatican at Night. Getting inside the Vatican Museum is a must when you are in Rome and as one of the places with the most extensive art collections; it's not surprising why there are tons of people. To avoid the foot traffic and for thinner crowds, catch the last entrance. The tour will be self-guided but you can peruse the paintings and other museum display at your leisure.

Drop by the cat sanctuary. There is much to see in Rome and one of these is the cat sanctuary which sits beside the ruins of Torre Argentina. This sanctuary is in a cave-like area which is run by volunteers. The location is actually where Julius Caesar was stabbed by Brutus. You can feed the felines and drop by the cat shop.

Get an art pass. There is so much to see around Rome and if you love the arts, a Roma Pass is just what you need. You will have free access to 2 sights or museums, unlimited rides in public transport and reduced fees when gaining entry to various events and sights. Research is essential to plan ahead and get the most of your pass.
People in Rome are known to live beyond their means and by getting some hints from locals, you will surely relish your stay in the city without worrying about overspending. These are just some of the tips that can help you plan a smoother trip while living within your financial capacity.
As one of the most popular summer holiday destinations in Europe, Tenerife has developed a thriving tourism industry, with a wealth of excellent attractions, restaurants and other amenities. However, don't get fooled into thinking a trip to island has to be expensive, as there are plenty of options for budget travelers looking for a cheap holiday in the sun.
While it's certainly possible to spend a fortune indulging in fine dining, visits to water parks and scuba diving excursions, it's also very easy to have a truly amazing time here without giving your wallet a workout. After all, when you consider that Tenerife is a volcanic island sprinkled with charming historic towns, gorgeous beaches and unique landscapes, it becomes clear that the isle itself is one giant tourist attraction, and exploring this amazing location is free of charge.
There are also plenty of cheap hotels in Tenerife for those who don't want to spend a packet on an all inclusive resort, and you'll find lots information about budget accommodation here. Once you've booked your stay you'll need to start thinking about how you'd like to spend your time (without spending your money) on the island. To help you, we've put together a brief guide to enjoying Tenerife on a budget.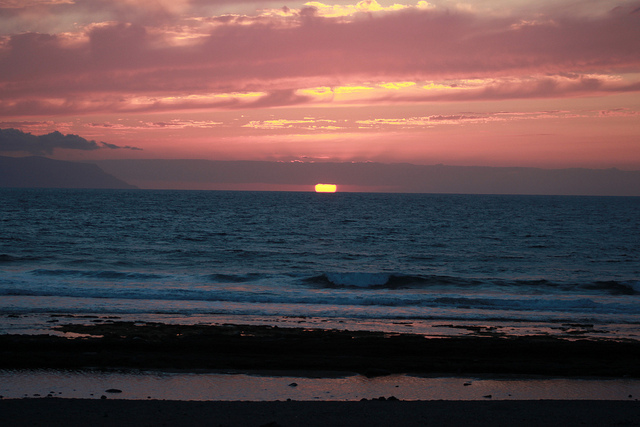 Eat like a local
While the popular resorts of Los Cristianos, Playa de las Americas and Costa Adeje are full of the kinds of restaurants that thrive on big-spending tourists, the north of the island boasts its own unique gastronomical culture that is centred small eateries called guachinches. These are basically small makeshift food stalls serving home-cooked dishes using local recipes and ingredients. In accordance with Canarian culture, each guachinche only remains open for three consecutive months at a time, serving no more than three dishes, and usually will only be advertised by a small wooden sign.
Because of this, they tend to be frequented more by locals than tourists, so taking the trouble to find one is a great way to discover some authentic Canarian cuisine at an extremely affordable price. Typical dishes include ceviche and other seafood recipes, as well as crinkly chips known as papas arrugadas.
Explore the island
Rather than splashing out on boat trips or days out at theme parks, why not try exploring the island itself? This way you'll get to learn more about Tenerife's history, culture and nature for next to no money.
One place that's worth visiting is the small town of Garachico on the northern coast. Once the island's main port, the village's development was stopped in its tracks when the harbour was destroyed by a volcanic eruption in 1706. Many historic buildings such as the Santa Ana Church and Convent of San Francisco remain, while visitors can also take a dip in the volcanic rock pools, which were created by the same eruption that devastated the port.
Elsewhere, the Teide National Park is home to Spain's tallest mountain, Mount Teide. This amazing landscape is home to several species of flora that are not found anywhere else in the world, including the beautiful tower of jewels. Taking the cable car to the summit offers amazing views across the island, and is a great way to spend a cheap day out.
Hit the beach
One thing Tenerife is famous for is its climate, and there's no charge on sunbathing. With so many beaches to choose from you can spend your entire trip discovering the amazingly diverse coastline of the island, adding a sense of adventure to your relaxing beach holiday.
Rather than lounging around in overcrowded resorts like Playa de las Americas, take a trip to Playa Bollullo in Puerto de la Cruz. The black sand, caused by the erosion of volcanic rock, is unlike anything you'll have ever seen before, and makes for a unique s